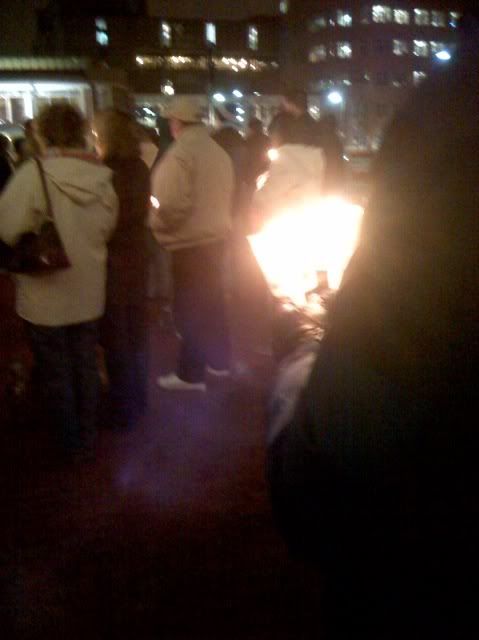 Yesterday may have been the first time in this nonsense that the anticipation was worse than the event. (Usually the anticipation is bad and the event/holiday/-iversary supersedes my expectations and is fucking miserable.) But I was helped here in no small measure by a couple of Mr. ABF's family members who called us early yesterday morning to say that -- after accepting our invitation 2 months ago to attend the memorial service, and knowing full well it was held
outside in December,
and there were space limitations and so we could only take 6 people including ourselves -- they would not be attending last night.
Because it might rain.
And so, Mr. ABF was left without family representation because his
fucking jackhole
lousy bastard
sorry excuse for humans
incompassionate, unfeeling, ungrateful
emotionally vapid
inconsiderate relatives couldn't
find their umbrellas and warm socks
handle emotion -- theirs or his -- and waited until the last minute to tell him. Ironically or not, the other side of his family was confabbing a few miles away, and I knew someone there would want to come and be with him/us, but we didn't want to pressure and guilt them at the last minute. We wanted (call us crazy) people to come who actually wanted to be there. To remember their relative, Maddy. To support us.
My breakdown came earlier in the day in the car, on the way home from grocery shopping. I thought seriously about calling someone from Mr. ABF's family, and changed my mind. I got the sad and angry part out then, the part about missing my daughter and having to do it alone, and by last night realized that I was Mr. ABF's support, and acted accordingly.
Right as we got to the hospital, despite the throng exiting the parking garage, I ran into another mom I knew from a support group. So I rather immediately felt at home, where the elephant disintegrated, and no one was pointing at me in hushed whispers. Bella behaved marvelously, and deciding her glowstick was "for babies" she opted for a real candle. She spent some time standing up luminaria that had fallen in the wind and then slalomed through them. We listened for Maddy's name, and my momfriend's son's name, and the litany of other babies and children. Whereas last April I would've been horrified, last night I was somewhat pleasantly surprised to see people mourning children who had died as long ago as the year I was born. I don't want to be debilitated that long, but I would like to remember that long.
The weather was crisp, cold, overcast, but no rain.
My scraps were safely ensconced in a ziplock, tucked in my breast pocket. And they did help. Everyone helped. I came home, put them in a bowl on my entry hall table, and lit a candle next to them. I'll probably do this a few more nights until the Christmas whatnot and the bill pile defeat the shrine for space. But I've decided I'm going to do this again, carry everyone's weight and memories with my own. I'm still livid about these relatives. If this is how they treat the dead and the living, I want no part of them and I'm not going to jump through hoops to connect with them, especially this month. I'm just sorry that the support we assumed to possess appears to have been built on smoke and mirrors.
At the service, Children's Hospital handed out books with pictures of children and, if their parents wished, a message, or poem, or song for their children. A dissertation could be written on these submissions: they can be classified quickly into "you're now with God/Jesus/Allah" letters; bad, and (surprisingly) good lyrics and poetry, both borrowed and self-composed; straight letters of despondency (one with the word WHY studded throughout in capital letters); and even a few poignant missives in hip hop - ese ("U'R missed"). We submitted the following:
Maddy,

You weren't just wanted, you were already here: you were a sister, a daughter, a pet owner. You were loved. You were read to, shown photos of your entire extended family, lectured to about where your ancestors came from and how your parents met. Your sister gave you a Valentine, and thanks to a lovely NICU nurse, you gave her one too. You left us footprints, handprints, a lock of hair, and some grainy pictures taken by thoughtful staff in poorly lit environments. You put up with your mother's sobbing, and your father's thoughtful silence. You never met your sister, but she knows you -- she can locate you instantly in a crowd of baby pictures, and she never seems to mind the number of tubes and wires around you. She pronounces your name perfectly, makes pages for your memory book, and waters your tree. In your short time here, you taught us that even the littlest among us have the strength of giants, and that every day on this earth is precious. You are a memory, a future lost, a chasm in our hearts, and a canyon in our identity as parents. You were only here six days, but you will with us forever, as you should have been from the first place. We love and miss you so much.

Mommy, Daddy, and Bella