I owe y'all pictures of the garden. So! First there was this: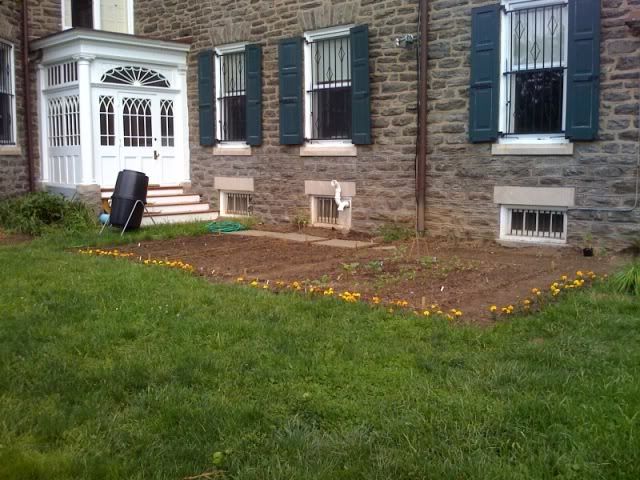 which led to this,
pun completely intended. We ripped out poison garden, and my industrious husband built these: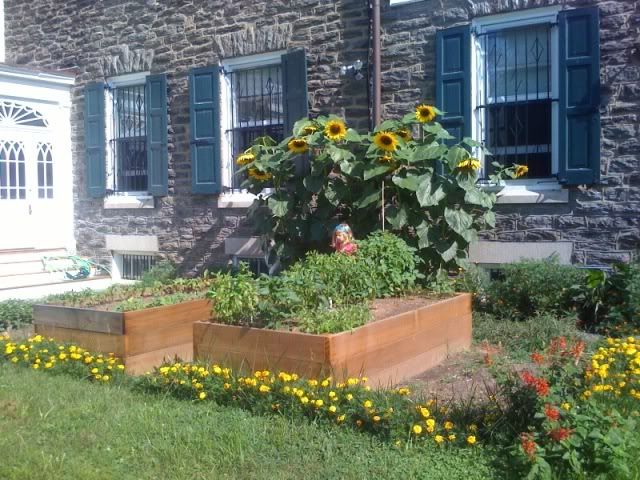 (Two more to be added next year.) It was July by now, so we threw in seeds for beets, arugula, lettuces, carrots, and beans. At the nursery we found a couple herbs and peppers and a really raggedy tomato plant, all looking withered and on deep discount. We threw them in too.
It's not quite the harvest we wanted or intended but hey, I'm an aim-low kinda gal now. At least we know we can actually grow things to next year should be fun.
My big conundrum now is what to do in the bed adjoining the garden (see behind Bella's shoulder in the cucumber picture? The round bank of windows with a basement window underneath? That one); it had been over-ridden by some vine weed and mint (people, don't put mint in the ground. Grow it in a container, or if you must put it in the ground, plant the whole effin' container in the ground. I learned this valuable life lesson when I was about six from my mother, and am mystified to find people who don't realize what a pervasive weed it can be). The original plan was to put in blueberry bushes, but now with the lead we are not so crazy with this idea. Someone (I'm going out on a limb here and assuming not the people who planted the mint) planted peonies, which I really liked, but were overtaken and smothered. I'm toying with more of those and something tall in the corner next to the door (butterfly bush?). I welcome suggestions.
:::
Because we've been busy with getting rid of houseguests and school and whatnot, the fishtank was cleaned and refilled (and forgotten pretty much, but) and has now been "established" for at least a month. We now have an ammonia sensor, not to mention a couple bottles of stuff to regulate water chemicals. The filter is clean and running. In total, I've probably spent $70 on fish-tank related accouterments. And yesterday, we went and bought two tiny feeder goldfish -- that bill was 28 cents. I told my mom this was apparently about guilt.
:::
We're now wading knee deep in Fall and in addition to the pile of minutia I need to deal with, I've added to my docket . . . .coaching. No, for real. I am now head coach of Bella's soccer team after a fair amount of arm twisting and then using the arm to beat my husband over the head with. It's nerveracking, it wears me out, it's hilarious. After more than 20 years of playing the game, coaching the first time really puts things in perspective and has forced me to return to the essential, the raw, the root: Don't touch the ball with your hands. Followed closely by, Don't take the ball away from your teammate. The point is to score a goal. (A point quickly retracted when my wee scrimmage team goes up 3-zip in about two minutes, and I then tell them I'm not counting any more goals until I see them use today's skill of pulling the ball backwards on the way to the ball going in the net.) For me, it's a valuable lesson in not swearing for an hour, not laughing (out loud), realizing that running around with eleven 5-7 year-olds wears me the hell out. Aging is not a pretty thing.
It's also served to remind me that I haven't completely turned into some bitter, pariah freak of nature that really shouldn't be around innocent lovelies, even if I do know a thing or two about how to effectively bend a corner kick. It's reminded me I used to love soccer. Apparently, I still do.
:::
It's my first fall with my new kitchen. Last year I wistfully looked at the recipes for baked apple whatevertheheck, and this year I'm itching for an excuse to make pumpkin cake. (Does one need an excuse?) We've ushered in the season of hot breakfasts, and afternoon cups of tea. It almost feels like my first settled fall -- the first one where I wasn't in fear about the spooky pregnancy, or tied in emotional knots, or running my house out of a makeshift kitchen while contractors took up residence in my downstairs. The first fall where I can now sit with my tea and pumpkin cookie and look at my favorite tree in the yard, and watch the yellow and red start to erupt behind it.
I wonder if life will be like this, always a series of firsts as Time that uneven bitch makes it way beneath my feet.
I'm sure there's more, but seriously, I'm still catching up on my August Tivo. Not to mention my blogroll. Which I feel like a real asshole about. I'll come say hi, I promise. PROMISE. In the meantime, what are your Fall plans if any? (I know this is loaded, any season is a ton of crap for some, so I'm really sorry. Feel free to tell me about those plans, too. Really.) Also, have any of you ever considered letting your parents live with you? Because when we moved here, we honestly thought this was in the realm of possibility. After August, we're both thinking we were fucking mental to have ever entertained that thought, and we've forbidden each other from speaking of
It
ever again.