Because a remote island resort was out of the cards for us this spring, we bundled up, dressed in layers, and hit NYC for a few days this week while Bella was on break. (Nothing says spring break like a windy, high of 40 and urine-scented subway platforms!) We crashed on the sofa bed of a good friend who lives near the express line (location, location), and despite not really sleeping for four nights, enjoyed the hell out of the city. Kinda. There were a few unfortunate hours at a country-specific-large-scale-doll store (and though I did not partake, I am pleased to report they do in fact offer booze to the parents. Which is all kinds of smart), but you know, for the kids. Right? We spent a day at the Museum of Natural Science and overloaded on all things space and dinosaurs. Sadly, I am still mortified by how much I weigh on Mars even though it's only two digits. We somehow forced ourselves into the fin-tailed-red-headed-Disney musical and were, frankly, pleasantly surprised. High production value, and the bad guy (er, gal) had some serious pipes. Finally, if ever in the vicinity of the Transit Museum, go. Incredible. It's in an old station, and on the old platform they have lined up on both sides umpteen cars dating from 1904 to the present. Can you imagine a subway with wicker seats and ceiling fans? Neither could we. Again, sadly, I realized that even I can date myself on the token time line (my college years were a few iterations from the end of the token life span), and Mr. ABF even remembered an old bluebird line around Coney Island when he was a young lad.
We also paid a visit to a certain someone at the Plaza: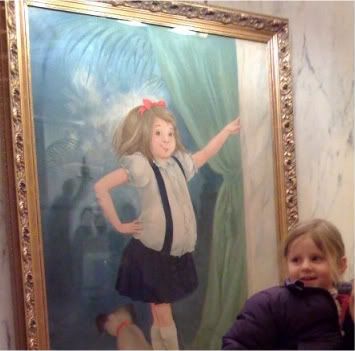 We ate way, way too much, came home, and entered a coma of sleep and catching up on television. And jeebus, from Sunday to Thursday my reader jumped from a manageable 30-something to 160-something. I kid you not. Time for a moratorium on news so we can all catch up, m'kay?
Hope you're well.