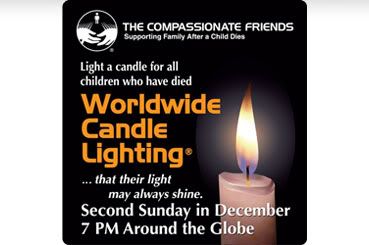 It's been on the calendar since September; I know, because our photo and written submission were due October 1. And yet, it was just last night when Bella asked what was going on this coming weekend that I realized Sunday night is the
annual worldwide candlelight service for children who have died
. Per usual, sponsored by Compassionate Friends, and for us, hosted locally at Children's.
For those who haven't been reading since inception (and who can blame you?),
the first year
we went to this it was . . . rough. It was rough thinking about going, and in the end we were
stood up by family members
-- the first of many
schisms
abysses to appear in the relationship we have with extended family.
But. I decided it would make me feel better, and less lonely, and even my load so to speak, if I carried in my coat pocket the names of all the children I know who have died. And you know? It did. And I did it again last year, when Bella and Mr. ABF were kept home with a
bilateral
ear infection and I went with my Aunt and Uncle. And again, as I absorbed the names and faces of the children in the program in front of me, I silently clutched my stack of names, knowing I wasn't alone in this. None of us are alone in this.
We're planning on going, barring a last-minute massive ear infection for any of us, and again I'd like to carry my names with me. Please note: these names are NOT part of the service, they are not read aloud. I write them down on a piece of paper, and all of the names come with me in my pocket where they keep me company and the palm of hand nicely warm. At our service, they read the names and show the pictures of children who have died at Children's -- some going back before the year I was born, back when fire was invented. Everyone holds candles that look amazing in the frosty winter night, and the grief seems to dissipate skyward into the black. When I return home, the names all go into a bowl next to a candle that is lit nightly until my Christmas decorations overwhelm it all. (Or the cat threatens to dump everything on the floor. Crap happens in this house.)
I love saying the names of your children as I write their names, and put them altogether. There are far too many, and yet it makes me feel so much less alone in my grief and missing.
If you'd like for me to carry your child's name with me this year, please leave a comment with the name. If you'd like me to use a real name and not a blog pseudonym or you'd like to keep this otherwise private, please feel free to email me at tashabf at gmail. As always, I carry the names of children I gathered from my first year doing this, so it's highly likely I already have yours written down, but a reminder and double-check are always welcome.
And please, feel free to light a candle at 7:00 p.m. your time on Sunday, and join in a wave of candlelight remembering Maddy, and those who made impressions despite their short lifespans, earthside or inside.