It's not often that the metaphor becomes reality, but here the last few weekends I've been working quite hard on the new kitchen garden.
During the kitchen reno, some doors were moved around, and this lovely patch outside the kitchen -- facing south -- was dug up and cornered off. This spring we brought in mushroom soil and tilled it in. Bella and I started some seeds inside (went a bit better than
last year
-- only managed to brutally murder some cherry tomatoes, and for some reason the rosemary self-aborted? I'm terrible with rosemary. I understand for most people rosemary is akin to a chia pet, the one thing they can keep alive by sprinkling beer on it when they open one. Not so much, me), and sowed the rest into the ground. We planted a marigold border, and finished that off with multi-colored globe amaranth seed.
Right now, it is a nicely squared off patch of dirt. If things go as they should, in a few months we should have: broccoli, carrots, beans, tomatoes, peppers, eggplant, cucumber, beets, lettuce, arugula, and a host of herbs including one entire row of basil for my Italian husband. There should -- allegedly -- be sunflowers against the back wall, and cheerful flowers in the corners.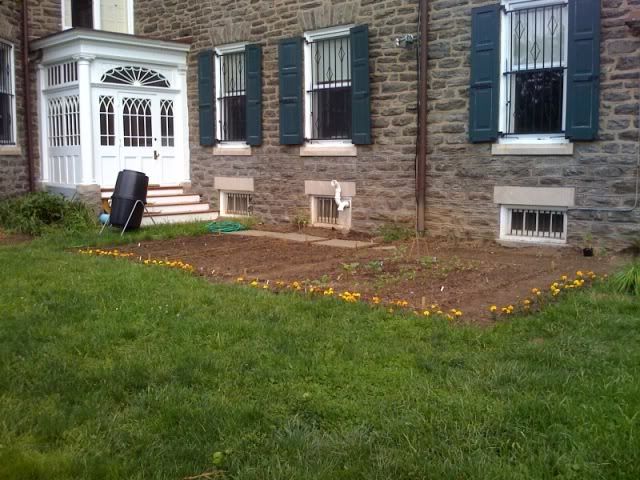 It's very nice in theory, isn't it.
Once it was in, and I was purposefully watering with the sprayer, I tried to self-analyze (shit, am I good at that now) about
how I felt
about my endeavor. And that's when I realized the irony of life imitating metaphor: the first thing that popped in my head was how this felt as if I had a positive pregnancy stick in my hand. It's "implanted." In theory, it's one of those "positive" symbols. But I know nothing of gardening, right now it just looks like brown soil, and (to me) it will seem nothing short of a Biblical miracle if there is food to harvest at the end of the day from these mere seeds I've jammed in crooked rows. As I've told my neighbors, "If we get vegetables from this, it's a bonus."
(To gently reiterate and avoid any confusion: METAPHOR, LIFE-STORY-USUALLY-EMPLOYING METAPHOR, SWAPPING PLACES. THERE IS NO POSITIVE PREGNANCY TEST. THERE IS A GARDEN. Kinda like bringing a metaphor to life, but without having to clean horse parts off your bat and shoes. Just thought I'd clarify.)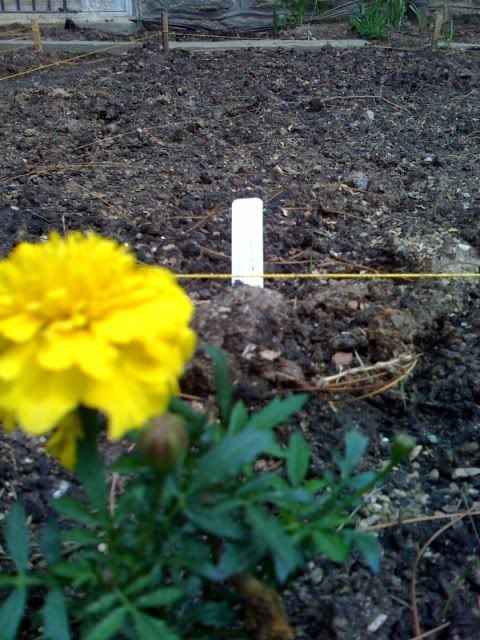 One of the contractors who worked on the kitchen and "consulted" on the garden swung by this week -- she's one of these types that maintains a self-sufficient farm in a yard the size of a postage stamp, replete with chickens and goats. And she was incrredibly impressed by our plot, and I gave her the line about it looking nice in theory, and wouldn't it be awesome if vegetables actually grew from those seeds?
"Why wouldn't they?" she asked. In complete seriousness.
Ha ha ha, why wouldn't they, IS SHE FUCKING KIDDING ME?!
Just because you put seeds in dirt and add water and sunshine does not mean you get a beet (or god forbid, some rosemary) in a few months. No sir-ee. I mean, why
should
it work? Not like I know what I'm doing. Then I read
this article
about lead in urban gardens, and I'm utterly convinced I will give us all brain damage should the garden actually produce something and I prepare grilled eggplant and beet salad, so this week on my to-do list is packing up some dirt to send off to the EPA for testing.
Seriously, I just wanted a little vegetable garden. Instead I got a boatload of cautious pessimism, irony, and paranoia.
Sounds about right.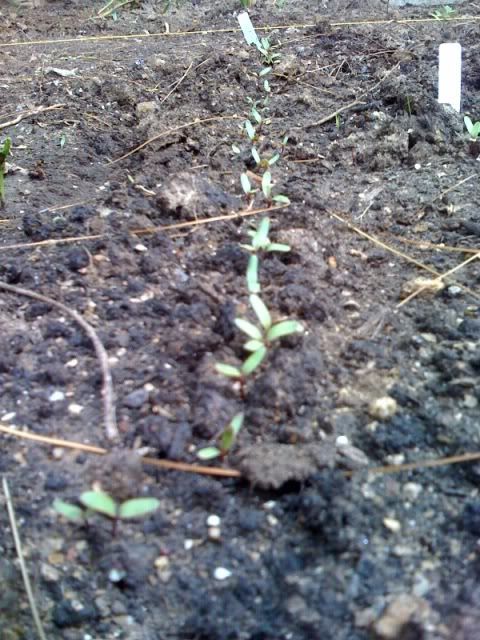 (Poison Beets!)