For some reason, Bella's school decided to extend Spring Break by two days (?), so yesterday we ambled off to check out the Please Touch Museum in their new digs. This is an amazing, amazing children's museum, made all the more amazing by their new abode: a left over structure from the 1876 centennial exhibition in Philadelphia. If you've read
Devil in the White City,
you know that such fair structures from this era are massive in scale (one wing is devoted to a "make your own flying machine" where you assemble a foam creation and then self propel it up
three flights
before letting it drop and seeing how long it stays airborne); incredibly architecturally detailed on the outside; probably thrown up in about 60 days with water, flour, and scrap lumber; and incredibly fire-prone. Perfect spot for a Children's museum.
We made our way through the automobiles, the space portion, music, beautifully restored carousel, Alice's Adventures in Wonderland, and finally -- the piece d'resistance -- the kid's sized mini city. Dump truck! TV studio! Shoe Store! And hey, woah, what's that on the left?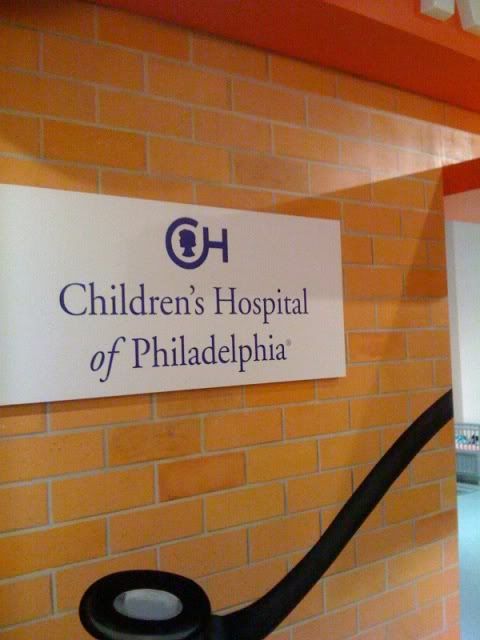 Ohmygoodlord, it's MiniChildren's! So kids can make believe kids need their own hospitals! Cuz you can't make that shit up! But wait, walk inside and you're dumped right into . . .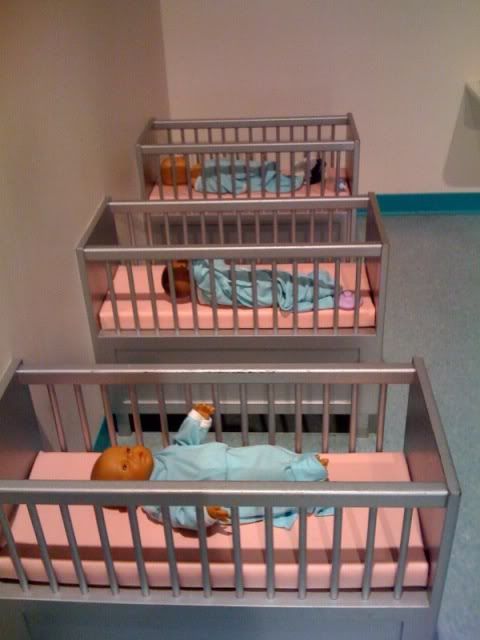 THE NICU! Bwahahahahaha! Lookit all the lifeless, plastic-complexioned babies staring vacantly into space! The recreation is uncanny. The lighting is dead on, and it looks about that comfortable for parents to spend the night.
"I think it's supposed to be a maternity ward," said Mr. ABF through my peels of laughter, but definitely sporting a smug smile when I retorted, "I am so blogging this."
Bella gave the babies a quick once over from the door, and headed off to see some xrays on the far wall. I was wondering if there was going to be some kid's-museum-inappropriate reaction from her (given MY reaction was quite mature, and thank goodness, it was pretty empty in the afternoon so I don't think anyone heard my conversationally-volumed, "Oh for Fuck's Sake"), when she spied . . . .
Kid's bakery, right next store. Crisis averted, and a girl after my own heart. We got the hell out of dodge, and spent the rest of the afternoon in the kid's grocery filling our cart with imaginary carbohydrates and corn-syrup-laced goodness.