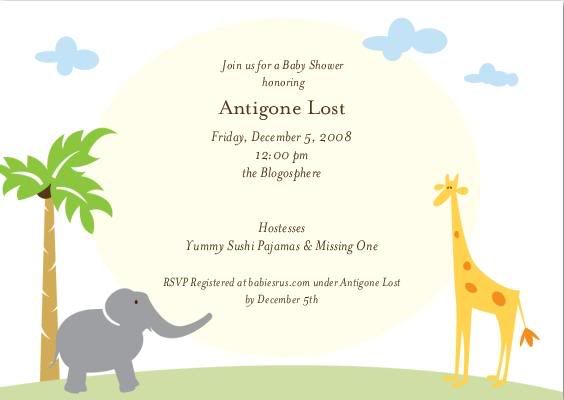 Imagine yourself entering the ultimate baby shower (really! Click on the envite and meet the lovely hostesses! See the other attendees!). . . No, I'm not talking a pepto-bismol explosion, or a light-blue dump-truck-pacifier-dripping afternoon. No pastels. No baby name contests. No stupid games about due dates. No need to feel like the biggest rainbow-painted elephant in the room because the
room is full of technicolor elephants just like you
. There's the most delicious cake you could imagine free of baby-esque decorations (unless you count overturned wine bottles and perhaps some four letter words running down the sides). There are lovely conversations about . . . how much things like this usually suck and made your blood pressure rise. How you usually toss out the invitation with a hard roll of the eyes before going to cry in the bathroom. And you all remember babies lost, and find a few moments to revel in babies found.
No. This shower is wonderful and full of snark and frostiness and good-old-fashioned macabre overtones:
It's
Antigone
's Virtual Shower!! Right here! On line! See? Welcome.
I know it's really fucking hard sometimes to get behind (fully behind) subsequent pregnancies in this corner of the 'verse. Really, I do. BELIEVE ME. But sometimes when the universe dumps an extra load of shit on someone already down, it's hard not to rally around them. And not only do I want Antigone's pregnancy to work out,
I want her life to work out
. She kinda deserves a good-feeling gifty-type shower-thingy anyways, baby notwithstanding, don't you think?
Because I'm a last-minute kinda gal, and an academic at heart, I always give books at showers. And I'm pleased to announce that this here, right here, marks the first time I have bought a mom and/or baby a gift since Maddy. Which is a big deal, I think. So here's the lineup that Antigone and Perseus will be receiving from the Awful household:
From Me:
I used to give this book to all the new moms -- until my kid died and theirs kept living. I'm glad to revive the tradition here. It's a delightfully snarky and hilarious and utterly practical book that I think will fit Antigone to a T. It's hard to resist a book with chapters like, "Child Labor: Not Just for the Third World!" and "Bedtime: Is Five-Thirty too Early?" It taught me that sometimes grandma can take a hike: put the video camera down, and just enjoy and be with the moment. It also taught me that a child gets enjoyment out of a martini shaker, too. Not as much as mommy perhaps, but sometimes small tasks can be fun for everyone. Truly a great life lesson.
***
From Mr. ABF:
We bought this stunningly illustrated book for Bella and it quickly became Mr. ABF's favorite. Mr. ABF's favorite story within changes and depends on where he is in his personal "journey" ("car wreck"?) -- like I suppose all things Zen should. We've found it comforting and thoughtful both before and after the great divide in our lives. Oh, and Bella finds Stillwater cute.
***
From Bella:
Pinning Bella's favorite book down is a tough endeavor. On any given night, her "favorite" could involve a young, Hispanic animal rescuer, a talking train, or god forbid,
Barbie
. I was told by a good friend who happens to have a PhD in library science that one should never deny a kid anything they want to read (well, you know, within reason -- and I don't think Barbie is quite obscene enough to warrant expulsion when she's off saving her sister and not complaining about math or throwing up her lunch), so I endulge and we do it all: the classics, the award winners, and the sheer and utter crap that stores peddle under the guise of children's literature. Right now it's the words and meaning I want her to focus on, and I have no doubt soon she'll have a filter and understand that there's great stuff out there, and then there's beach reading. And there's a time and place for all.
Where was I? Oh, Bella's favorite book. I thought about what book(s) she first really responded to, and I kept coming back to Sendak's "Night Kitchen" and "Where the Wild Things Are." I settled on "Night Kitchen" since she loved the little sound effects (from very early on she began interjecting the "Mama! Papa!" etc.), and eventually the recitation: "Milk in the Batter! Milk in the Batter!" And honestly I have no idea why this book was considered so controversial since Bella has never, ever, now at four years of age, asked me why Micky is naked, and at one point after our 10,000th read she said, "So, this is a dream, right mom?" And people thought this was nonsense? Hmph. Anyway, cheers Perseus.
***
From Maddy:
We tapped the Jon Muth well again the week Maddy was born, and decided to take this back to the hospital with us, and read it to her the week she was alive. Used to be because of this I couldn't make it through the story without sobbing. Not to mention it involves a hurt mother and saving a baby and, well, ugh. Tough. But it's beautiful, and Bella made me keep reading it despite the fact that I could barely finish, and now I can. The last line simply kills me: "That is why we are here." And I'm still trying to figure out how this relates to the child I originally read it to. I'm apparently destined to keep reading it until I figure it out. Perseus, hopefully someday you'll come to some conclusion on this issue yourself.
***
And finally, because Max, Buddy, Tucker, & Kirby insisted Sothis needed something as well:
A really lovely read narrated by Touche the dog, who can't quite understand the new dog, Jo, who doesn't have a tail and (egad!) goes
inside the house
. Charming. I know you don't get it either, Sothis, because really, why does she need another one of you? But you'll soon become fast friends and it will all make sense. Really it will.
***
And now for the fun party games! (You didn't think I'd let this go by without games, did you?)
The first three people to comment on their favorite book will have them included in my order -- from them, to Antigone and Perseus.
One book per, please. My only stipulations are that they need to be available through the etail place named after the river that starts with an A (not a subsidiary, please!), and that they're respectful of both mama and baby. Antigone is not eligible. Quick quick! (Runs off to eat cake while people comment . . . . )