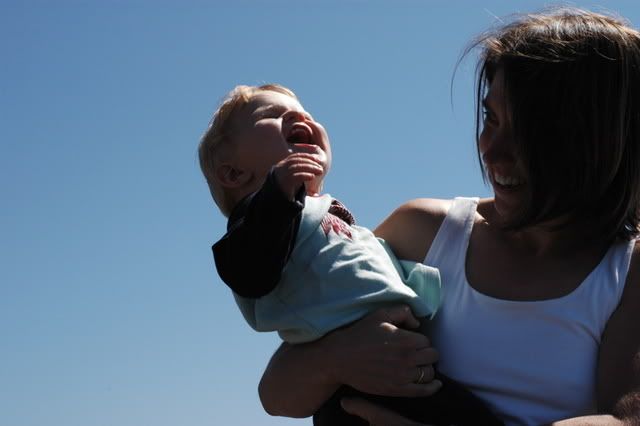 I was somewhere recently, packing something, dusting something off, getting the dog to quit eating something, can't remember really, when I ran across the above photo.
Pictures -- especially portraits -- are just weird for me now. My techno/shutterbug husband with his swank new digital camera started up a website for all things Bella literally moments after she was born. The site is crammed with hilarious and poignant photos (like the one above: Bella's first experience with an ocean, Muir Beach, 09/05), and there are bazillion others that didn't make the cut and now chew up space on a spare hard drive. Cunning works in depth-of-field, and brilliant color compositions. Did I mention my daughter was in them?
The last pictures I remember coming out of the camera in this fashion were a series of Bella splashing in puddles on New Years' Day, 07. (In some, you can discern a shadowy, very pregnant figure hovering in the corner.) The last website photo shows Bella ripping Christmas paper off a tambourine.
And then it stopped.
Bella's website is still parked in cyberspace, frozen in time, like a clock at the moment the earthquake hit. I never go there anymore. Looking at Bella prior to two-and-a-half is an exercise in torture, because all I can do is wonder what her sister would have looked like at that age. And I have a seemingly infinite quantity of jpegs portraying
exactly
what a one and half year old girl should be doing, and exactly how many pixels should've been utilized by this point in time on a sibling. The above picture used to represent sheer joy to me, and now it's just a loaded bomb: When on earth was the last time I smiled at Bella like that? Or
she
laughed like that? Would Maddy have seen the ocean by now? Will I ever experience joy like this again?
In part because looking at old photos hurts, I quit taking them.
I realized looking at this photo that I don't have any current pictures of Bella, say, Bella at the beach just a few weeks ago. None. And frankly, I'm not that broken up about it, except that I know in a few weeks her school will ask for something to put up in her cubby and send me scurrying through envelopes sent from attentive relatives for something not too cheezy. I grudgingly dressed her up one day last fall and sent her off for school photos, which turned out remarkably well, and they're still lying in an envelope on my desk. Unsent, unframed. Really, the only photojournalistic evidence of the past year and half lies on my iPhone -- decent, though somewhat blurry photos of Bella in various settings and states of dress, that usually simply get passed on to Mr. ABF -- or not. Why do I even take these? They're not good, I'm not thinking "wooo boy, this is going on the desk when I get home," so are they simply evidence to Mr. ABF that in his absence I'm doing ok by her? Are they proof to me of the same? At some point in the future, after Bella holds up one too many liquor stores, will her therapist finally land on this period in her development only to have me whip out the alibi? "I took her to the zoo! She rode ponies! She climbed trees! Her hair was combed! (Usually!)"
I certainly don't capture Bella any more with any notion of remembering the moment. Because she's right here, and I want to be in front of the lens undistracted by the focus features and to whom this needs sent to upon finish. Mr. ABF snapped a few photos in the delivery room of Maddy, and then set the camera down so he could just be with her. I think we've learned that we don't want any more distance between us and and our children than is necessary. I want to experience her as she is, and soak up what she's doing and what she looks like, and just be with her beautiful, obnoxious self. Taking a picture seems somehow redundant. Like birthstone jewelry or tattoos honoring your living children seem redundant to me any more. Do we really need to
remember
the living? Do I need to frame and litter my television room with evidence that Bella is evolving (and Maddy is not)? Seems kinda obvious to me now.
Finally, there is this: I'm not yet in a place where I want to remember now. Now still kinda sucks. I'll be honest: it's much, much better than it was a year ago. But I'm not yet in a place where I can smile on demand, or even smile and mean it. I haven't posed for a picture containing the three of us in eighteen months, because it rudely encapsulates the incomplete. Not to mention I'm still overweight, complexion mottled by two pregnancies, with dark circles beneath my eyes. The only picture of me at the beach I've seen thus far is one my mother took: Bella's posing in the foreground, and I'm trying hard to sneak away and leave her with a clear shot -- back to the camera, hat on, trudging toward the beach. I run from the camera, and refuse to turn it on my family.
One of my daughters remains perpetually trapped in two dimensions; she'll always be six days old, a flat surface underneath my finger who never answers no matter how loud I raise my voice. Why on earth would I trap the other there when she's right
here?
I know our families clamor for photos of their grandchild and rue the sudden cessation of Belladotcom, and I should be a dutiful daughter (in-law) and point and click and send. I'm grateful for the start of the upcoming school year (in more ways than I can express) in large part because a professional will take a (hopefully eyes open, nicely posed) photo of Bella that I can throw into an envelope so that others might appreciate her smile, features, and maybe some residual personality if we're lucky. I no longer see the point, because when I want to remind myself of her I run my fingers through her hair, smile at her, or tell her I'm counting to three. For the last time.
Images of a past life that seem a million years ago, emotions that strike me as foreign. I seem so young. The pictures seem so flat. And I have yet to find anything that I want to capture and hold in this manner. I'm still wandering around with my hands outstretched hoping someone or something will make me feel that way -- the way I felt that day on Muir Beach -- again.
Gives a whole new meaning to "still life," doesn't it.