(One of my favorite pictures of grandma with Bella, age 4 months)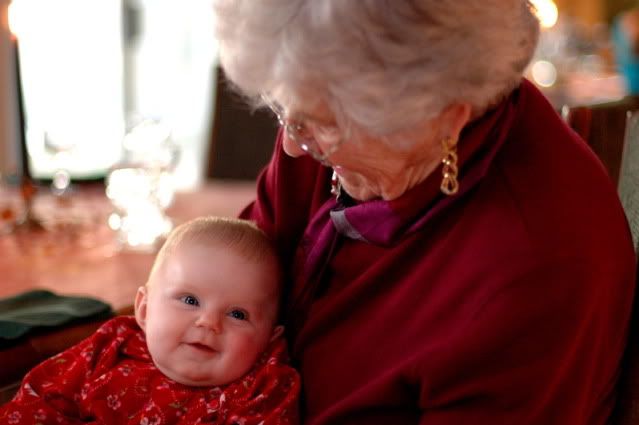 (In the middle of my grandmother's very overly-long memorial service, Bella turns to me and says in conversational voice):
I wish I was at camp.

I wish I was at camp too.
*
Bella we missed you yesterday!

I was at the Deadness Thing for my grandma.
***
Funerals are odd in that they're sort of fun family reunions minus the fun. I shouldn't say that -- there's still fun around the edges, but sometimes the funny stories take a sharp turn and you find your eyes brimming over, or someone else's voice cracks mid-story and everyone's left fumbling in an unexpected pause of silence.
I got to talking with one of my mother's cousins from Florida, one I don't think I had seen in over a decade if not longer (there was a family reunion in '98, but my memory is a bit fuzzy on all the cousins -- the one great uncle had a LOT of kids). I spoke during the service, framing my discussion on my grandmother's lousy cooking (in a real stretch for me, I tried to make it funny and touching), and cousin told me how much she loved what I had said, and how many memories it pulled out for her. And after lingering over some photos she turned to me and put her hand on my arm and said,
I'm sorry, I only just heard that you recently lost a child.
I did the two sentence spiel I have canned for such occasions, and she said,
You know, my mother had a baby who died. Gregory. He was three days old. They say he choked, probably on phlegm that no one then thought to rid him of. He was perfect. My mother couldn't speak of him for years without fully breaking down. I grew up knowing my brother that I never knew.
You can't know how relieved this made me -- not that there was another deadbaby in the family tree, but that here was this grown, totally sane, well-put-together smart beautiful woman with a family of her own who had gone through this. Whose mother had gone through this. She in no way looked as though she were living under a bridge, and though I've only seen about 10 minutes of Jerry Springer and a grand total of five or so Oprah episodes, she didn't look familiar from either milieu. Phhhhheeeeewwwwww.
I told her how much I now appreciated the silver lining of being able to talk to Bella straightfowardly about things like Grandma's death and funeral, and Bella exemplified this moments later by delicately tiptoing on the fresh mound of dirt covering my grandmother in order to see what flowers were still alive after last week's burial. No fear, this one, King of the Hill of Death.
***
The cemetery in which my grandmother is buried is older than some, but for this region decided not "old" -- I think the stones closest to the church date back to the early 1800s (this was indeed a stretch of road where Washington rode and slept, and some of the churches just up the street must have older occupants), which give way to the recent, as you walk back through the yard, to the last row where my grandmother now lies. I always pause at the military stones to read which war, and how old. (There's a veteran of the Spanish-American war in the same column as my grandmother a few rows back, and I've already promised myself when I go to plant pansies and bulbs by my grandmother, I'm weeding his place and tidying up.) As a historian I'm always fascinated by family structures: how many wives/husbands over time, how many children, elderly sisters who are buried as neighbors. Now of course I laser in on the children: fourteen years old; ten years; three, one, and then . . . there it is. A life measured in days.
***
At some point in early July, when I realized summer was getting away from us and we weren't going to the Outer Banks because the family that we usually meet up with there had decided to go even farther southward (should we take this as a message?), I suggested that we quick find a close beach getaway for a few days or a weekend in August. I hope that laughing I hear is with me, not at me. August obviously got sucked into a maelstrom of houseguests, grocery runs, meals, trips to the country, funerals, services, cleaning up and out my grandmother's things, and that ever familiar drive-through of grief. I'll take the usual. So last Monday, I piped up -- mostly to myself -- let's go to the beach! And go we went, to a close one, for two days and one night. Beach for Bella, brewpub for us.
It was unseasonably chilly, extremely windy, overcast; there were tidal warnings, red flags, anxious life guards; wind burn, sand in every orifice . . . . . and it was AWESOME. The sand was clean and soft and perfect for castles, we bundled up in our covers and rash guards (save Bella, who is a leper when it comes to water, and ran around in her swim suit as if it were a sunny , still 92 degrees), read, napped, watched a pack (school? herd?) of dolphins swim by, oogled at the parasurfers, ate, slept, and went back for more. I made no decisions. I didn't make a meal. It was a slice of heaven.
Now I'm back staring at the yard I didn't weed for a month, the list of school supplies I didn't shop for, the soccer gear I need by next weekend, the garden that needs tending, the fridge that needs disinfected and I'm wondering, where did summer go? I could point to times when it was fast, and times when it was slow. Overall, it was . . . disappointing. I'm going to eat home-grown beet salad for dinner, and look forward to Fall.