Today is National Pregnancy and Infant Loss Remembrance Day.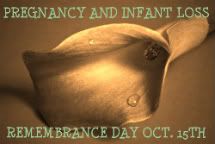 (A click will take you to information re: the House Bill on Stillbirth Awareness.)
And as I told Mr. ABF, seeing as I've now lost one of each, I need to pony-up: I'm wearing my pin, and lighting a candle this evening at 7 p.m.
Remembering Maddy, and all of yours. Always.